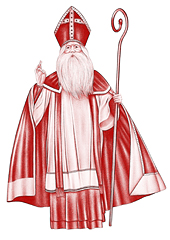 Please join us on Sunday, December 5th, for a virtual celebration of the tradition of Svätý Mikuláš, in the comfort of your home via Zoom, from 4:00 to 5:30 pm.
Our program will include: a live special presentation from Slovakia by Global Slovakia on holiday traditions and music; Slovak Ambassador Radovan Javorčík reading a Slovak folk tale; the presentation of the Matula Service Award; and, of course, a visit from Svätý Mikuláš, with children reciting a short poem or singing a song.
If you have a child (or children) who'd like to recite a poem or sing a song for Svätý Mikuláš, please contact us at info@dcslovaks.com (by 11:59pm ET, on Friday, December 3) to let us know the name and age of your child or children. All children who sing or recite will receive a gift for their efforts from Svätý Mikuláš.
Register in advance for the festivities on Zoom by visiting:
https://us06web.zoom.us/meeting/register/tZAudequrjoiE90nYNr6q43y68zjv3QlihqZ
After registering, you will receive a confirmation email containing information about joining the party.
Please contact us at info@dcslovaks.org if you have questions.
We hope to see you there!
SASW Board