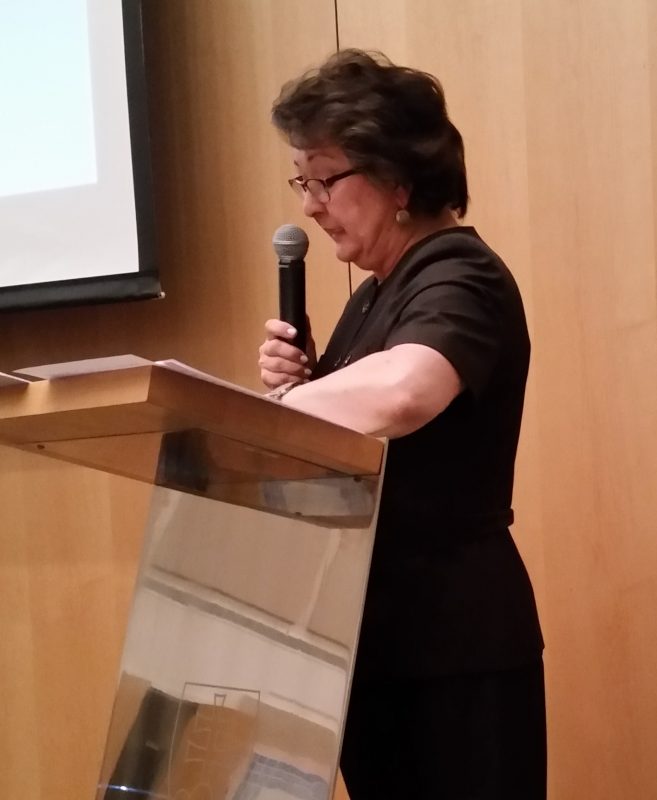 Dr. Elaine Rusinko, a professor of Russian at the University of Maryland Baltimore County (UMBC) and Andy Warhol scholar, presented a wide-ranging and fascinating talk on April 21st about pop artist Andy Warhol and his Rusyn heritage. Enhanced by an extensive slide presentation, Dr. Rusinko established Warhol's Rusyn ethnicity despite popular media referring to him as of Czech origin. The Rusyns are a stateless minority in Slovakia and several neighboring countries. Dr. Rusinko described Warhol's ancestral birthplace in Mikova in present-day Slovakia and the development of the Warhol Museum of Modern Art in Medzilaborce, Slovakia. She noted Warhol has become one of the leading modern artists with a painting sold recently for more than $100 million.
Born in Pittsburgh, Andy was a talented artist at an early age and was influenced by the icons of the Ruthenian Byzantine Catholic Church. Through her slides, Dr. Rusinko was able to compare some similarities between these icons and several of Warhol's works. He was also heavily influenced and encouraged by his mother, Julia, who was widowed when Andy was 14 years old. Julia also lived with Andy for more than twenty years during his New York career.
More than 70 persons attended the lecture at the Slovak Embassy in Washington, D.C. The talk was co-sponsored by the National Capital Chapter of the Carpatho-Rusyn Society.
Copies of Rusinko's monograph "We Are All Warhol's Children": Andy and the Rusyns were available at the event. She is also the author of Straddling Borders: Literature and Identity in Sub-Carpathian Rus. Presently, Dr. Rusinko is writing a biography of Julia, Andy's mother.