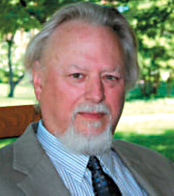 October 21, 2017
Embassy of the Slovak Republic
3523 International Court, NW
Washington, DC
2:00 PM
Dr. Paul Hinlicky will give a talk about the prominent Slovak Lutheran intellectual, Samuel Štefan Osusky.
Throughout the German mining colonies in "Upper Hungary," the Reformation message of Martin Luther quickly spread and took hold. By 1670, some 80 percent of the parishes in the territory had adopted the Augsburg Confession (or its more local equivalents). However, during the decade of 1670-80, all of these parishes were "re-Catholicized," a trauma that has scarred the psyche of the surviving Slovak Lutherans to the present day.
With post-toleration leadership provided by Lutheran clergy in the National Awakening in the 19th century, and ecclesiastical independence from the Hungarian Protestants following World War I, Samuel Štefan Osusky emerged as the flower of his tradition. Author of the First Slovak History of Philosophy, and champion of Czechoslovak democracy, he suffered imprisonment during the Nazi occupation and then internal exile from 1950 onward.
Dr. Paul R. Hinlicky is the Tise Professor of Lutheran Studies at Roanoke College and a docent of the Evanjelicka bohoslovecka fakulta, univerzita Komenskeho, Bratislava, Slovakia. He is the author of the recently released, Between Humanist Philosophy and Apocalyptic Theology:The Twentieth Century Sojourn of Samuel Štefan Osusky.
There will be copies of his book for sale at the event.
https://www.bloomsbury.com/us/between-humanist-philosophy-and-apocalyptic-theology-9780567660190/
Please send your RSVP to rsvp@dcslovaks.org by Thursday, October 19th.