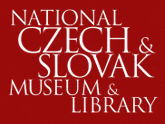 Dear Members and Friends,
The SASW board is pleased to announce that our organization has made a contribution of $1,000 to support the rebuilding efforts of the National Czech and Slovak Museum & Library (NCSML) in the wake of the devastating derecho storm that swept through Cedar Rapids in August 2020.
If you'd also like to support the NCSML, please visit: https://www.ncsml.org/support/donate/
Please SAVE THE DATE of Tuesday, January 12th. We will be holding a special event with the staff of the NCSML. In this live interactive presentation, curator Stefanie Kohn will give participants an inside look at current exhibits and a sneak peek into future ones. Librarian Dave Muhlena will provide an in-depth look into the library's collections and discuss the services provided by library staff. President & CEO Dr. Cecilia Rokusek will discuss how the NCSML has survived three major disasters in the past 12 years, and how change came much earlier than anticipated.
Details on event registration will be coming soon!
SASW Board