The Slovak American Society of Washington, D.C.
presents:
"When Your Goal is to Go to Mars"
A talk with Dr. Michaela Musilová
Tuesday, February 1st at 7:00pm EDT
To register for this event on the Zoom platform, please visit:
https://us06web.zoom.us/meeting/register/tZcod-mqpz0jE9CoiHZfMIawmB1gzHMJp0pg
If you have any questions about the event, please contact info@dcslovaks.org.
The Hawaii Space Exploration Analog and Simulation (HI-SEAS) research station, which is designed to prepare humans for life on the Moon or Mars, is located at 8,200 feet in elevation on the active volcano Mauna Loa, in Hawaii. In 2018, the International MoonBase Alliance opened up HI-SEAS to worldwide research organizations, space agencies, and companies. During analog simulated missions to the Moon and Mars, a six-person crew is isolated from the rest of humanity for long periods of time, and can only exit the habitat when the members get permission from Mission Control on Earth, while wearing spacesuits and going through full spacewalk protocols.
Dr. Michaela Musilová, Director of HI-SEAS, will share her experiences in leading over 30 simulated space missions, as well as her personal story of how she became an astronaut in the first place. She will also talk about the current state of Slovakia's space activities, including some exciting new projects, and the country's prospects of becoming a member of the European Space Agency.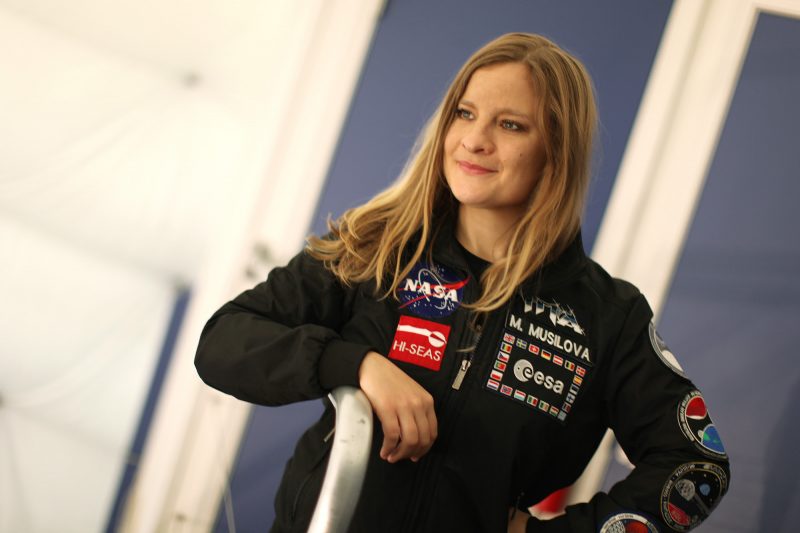 Michaela Musilová is an astrobiologist and the Director of the HI-SEAS space research station. Michaela studied and conducted research at the California Institute of Technology, University College London, University of Bristol, Chiba University, International Space University (ISU), and others. She worked for NASA, the University of London Observatory, the Canada-France-Hawaii Telescope, and was the Commander of over 30 simulated missions to the Moon and Mars. She is also a visiting Professor at the Slovak University of Technology, on the faculty at ISU, and the Head of Research at the satellite technology company NEEDRONIX.
Michaela has received numerous prizes and research grants, including the Emerging Space Leaders Grant from the International Astronautical Federation and the Women in Aerospace – Europe Young Professional Award. She was also selected as one of the most promising "30 Under 30" by Forbes Slovakia. Michaela is also actively involved in the Duke of Edinburgh's International Award program, as a patron of Slovakia's program, and is the global program's Emerging Leader. Furthermore, Michaela regularly teaches, gives lectures and keynote presentations, works with international media, and is the STEM Punks educational program's Advisory Board Member. She also writes articles for Space.com, and co-authored her biography, A Woman from Mars.
LinkedIn | Twitter | Facebook | Instagram