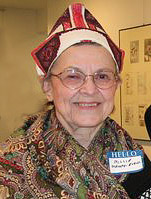 Mildred "Millie" Verkin-Evans, passed away at Fair Oaks Hospital, Fairfax, Virginia, on July 28, 2013, at the age of 90. She was born in Clay Center, Ohio, and traveled the world for many years living in Turkey, Pakistan, Cambodia, and Taiwan before settling in Fairfax, Virginia. Millie has joined her parents, Mary P. (Svetlak) and Michael J. Verkin, her sisters Helen Meng and Mary Knurek, and brothers Steve, Andrew, and Joseph Verkin.
She will also be joining her daughter Andrea Sallberg, her first husband Carl Schoepe, and her beloved husband of 15 years, James Evans. Millie is survived by her daughters Chris Wright (Mark), Barbara Serban, and son C. J. Schoepe (Nyo), as well as four nieces and one nephew, all of northern Virginia. Also surviving are her sisters Ann Jozwiak, Magdaline Johnson, and Margaret Smith (Don), and a multitude of nieces, nephews, and grandnieces and grandnephews. She will be lovingly remembered by Tony and Phyllis Costigan, Marilou Dacayanan, Violet Gatdula, Levita Dacayanan, Louise Weller, and Amanda Sallberg, all of whom were devoted to making her last years as nice as possible.
Millie loved gardening, canning, and cooking, and volunteered with many charities over the years. She was president of the Westbrook Civic Association and worked tirelessly to kept over-development out of a beautiful green neighborhood. She was also a founding member of the Slovak American Society, hosting the annual picnic at her home for many years and organizing the St. Nicholas Party held at the Slovak Embassy each December. In 2012, at a dinner at the ambassador's residence, she was awarded the Slovak Medal of Honor for her tireless and generous support of friendship and fellowship between Slovaks and Americans.
A Funeral Mass was celebrated on Friday, August 9, 2013, in Our Lady of Lourdes Catholic Church in Genoa, Ohio and at St. Timothy's Parish in Chantilly, VA, on Saturday, August 24, 2013. Internment, with full military honors, was held in the Clay Township Cemetery, Genoa.