Saturday, October 1, 2016
Arlington Central Library
1015 N Quincy St, Arlington, VA
2nd Floor Meeting Room
2:00 PM to 4:00 PM
How much do you know about the Slovak folk calendar, the traditional events that mark the flow of time in village life? What are the origins of these events, and what are they about? Come join us and hear Professor Kopanic talk about the traditional celebrations and commemorations of the fall season: dožinky, vinobranie, Halloween, and All Saints' Day.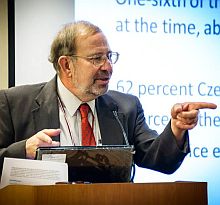 A native of Youngstown, Ohio, Michael J. Kopanic is Adjunct Professor of History and Course Chair of European History Courses at the University of Maryland University College. Specializing in the history of East Central Europe, Slovakia, and Slovak immigration to the United States, he has spoken widely on topics in Slovak history. He also writes a regular column for the largest circulating Slovak-American newspaper, Jednota, contributes to several other fraternal publications, has published numerous articles in journals and books, and serves on the board of the CzechoSlovak Genealogical Society International.