Please join us on Sunday, December 3, to celebrate the tradition of Svätý Mikuláš at the Slovak Embassy, 3523 International Court, N.W., Washington, D.C. We will have a delicious Slovak buffet dinner prepared by the Slovak Embassy's Chef Ivan, live music by Slovanka, and of course, a visit from Svätý Mikuláš. The doors will open at 1:00 for socializing, and the event will run from 2:00pm to 4:30pm.

The ticket prices for members are $35.00 per individual.

The ticket prices for non-members are $45.00 per individual.

Free admission for children age 12 and under.

As always, those attending with small children should bring one small gift per child (wrapped and clearly labeled with the child's name) to receive from Svätý Mikuláš. Drop off gifts at the front table, as you enter. Please encourage your child to learn a short poem or song, in Slovak or English, or bring a completed drawing, to present to Svätý Mikuláš, as is the Slovak custom.
Your prepaid reservation is due by 6:00 pm on Wednesday, November 29, or until we reach full capacity. Print out and mail your reservation form (click here for form), along with your check, to the following address:
SASW
P.O. Box 2502
Springfield, VA 22152-2502
If you prefer to send an electronic payment, please use this link www.paypal.me/dcslovaks/ and provide details about the size and members of your party.
We would greatly appreciate donations of homemade Christmas baked goods. Please let us know, via our SignUpGenius registry, what you plan to bring.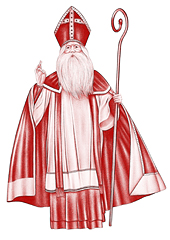 We look forward to seeing you there.

Sincerely,
Georgene Chastain
President
SASW